TAN TALL LUG BOOTS | BLACK LUG BOOTS | CREAM LUG BOOTS
I have been on the hunt for the perfect tall lug boots this season and let me tell you guys, it was worth  the  wait.  These are the most beautiful boots. Even better in real life.
The chunky boot styles are still carrying strong into 2021. It's an updated version of the traditional Chelsea boot you have in your closet. These are waterproof and slide on super easy – they will become your GO- TO boot this season. 
OBSEEEEESSED with these tall lug boots. I got them in this pretty nude and also the cream color.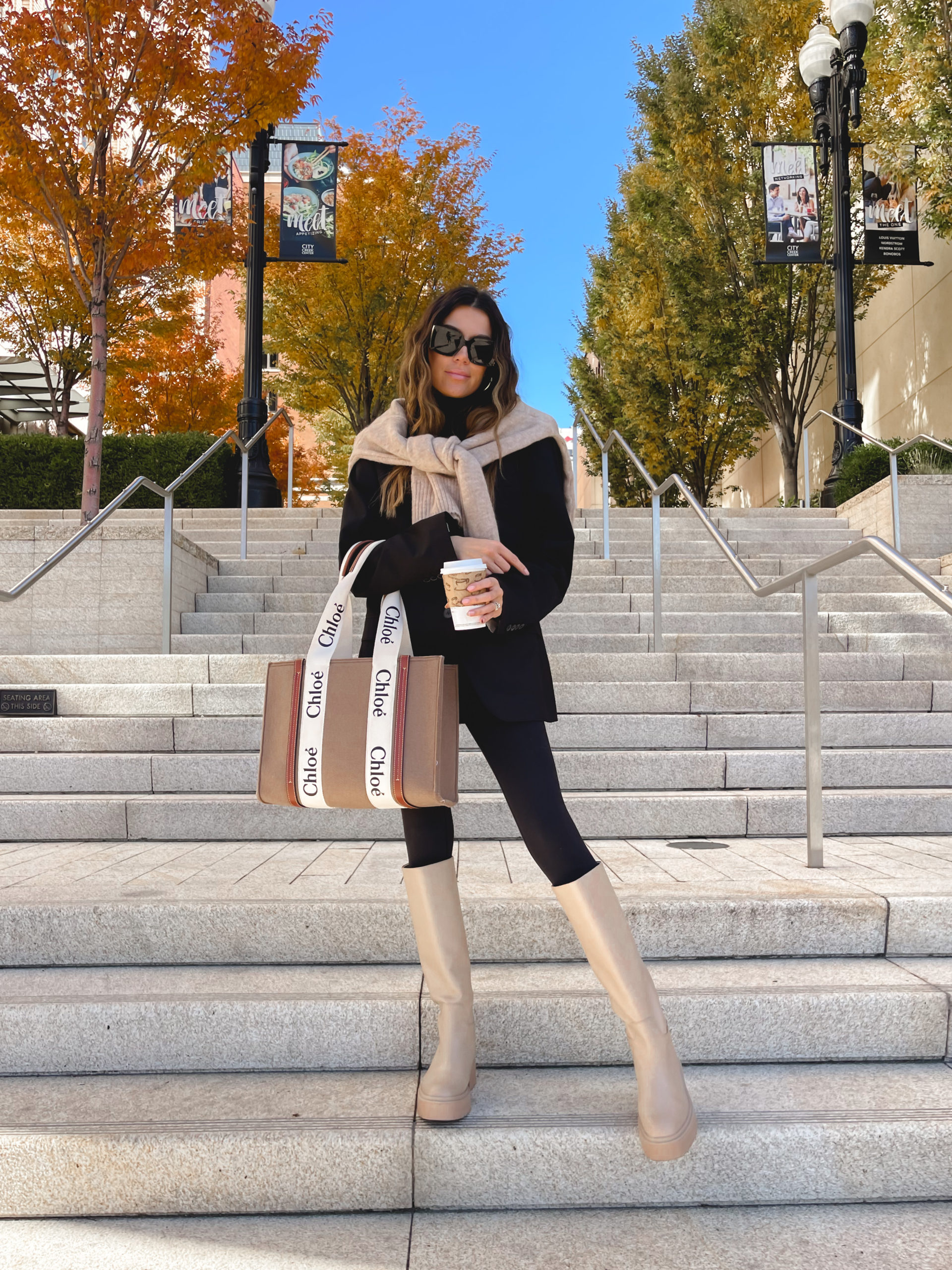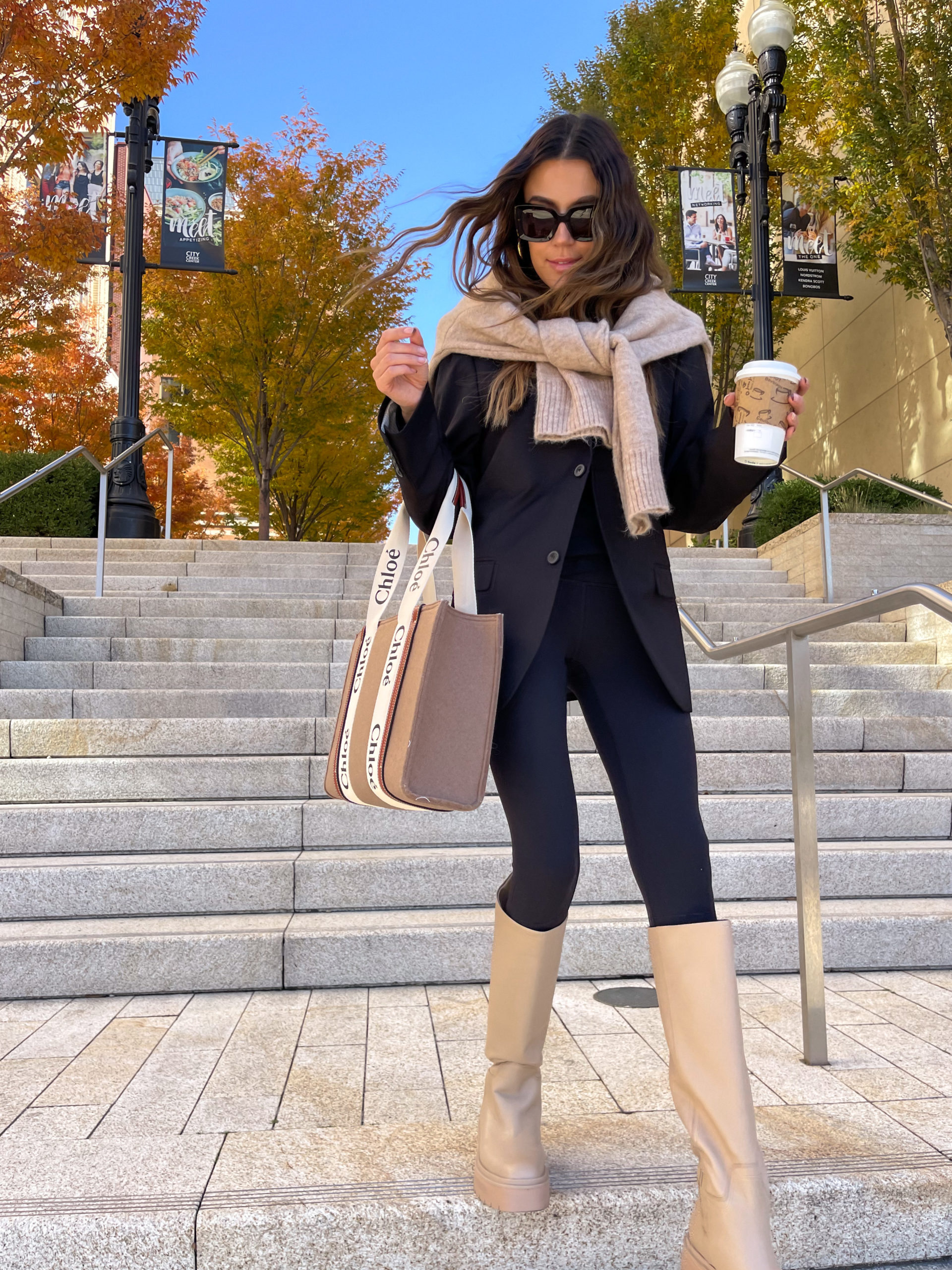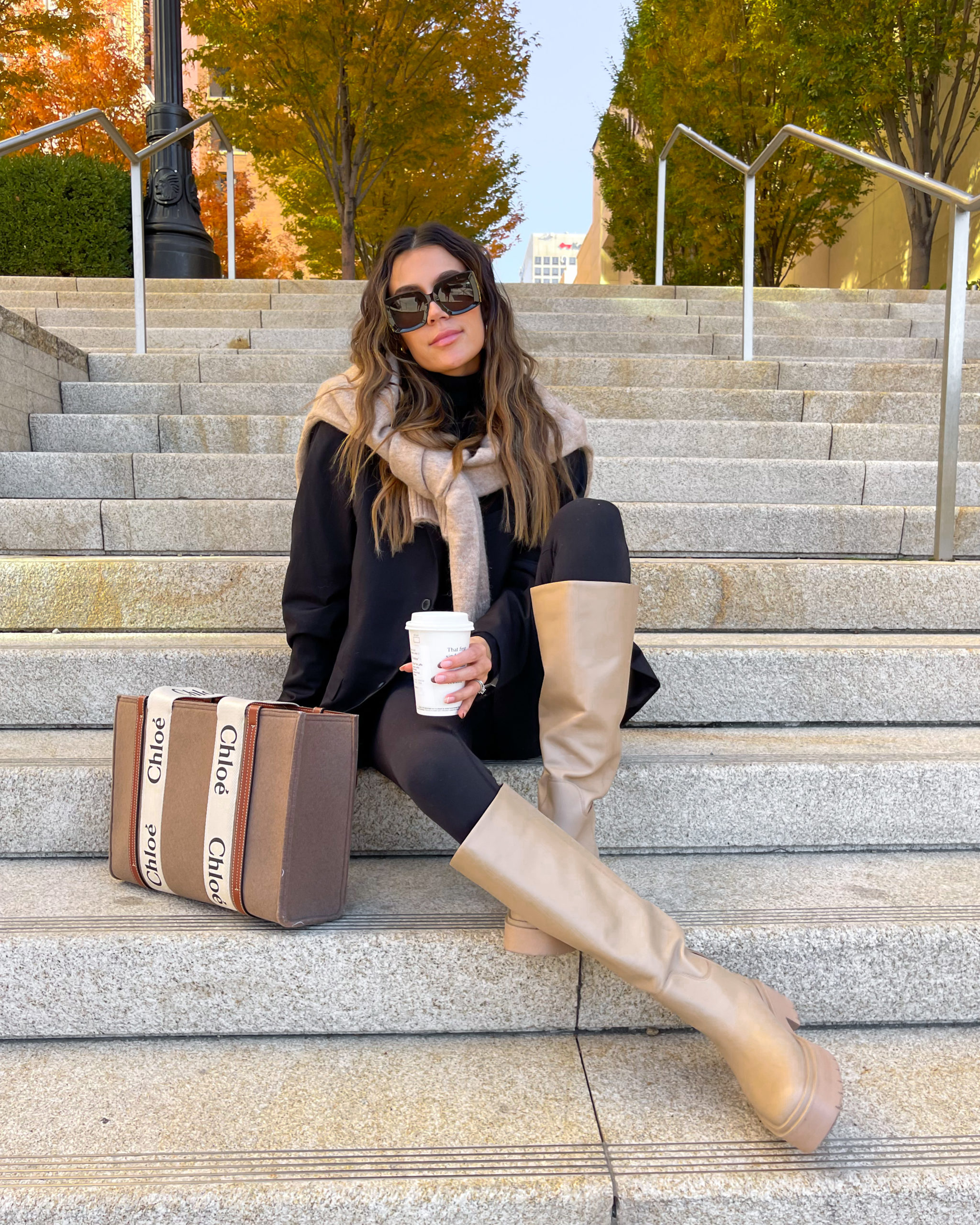 Snagged these glasses in-store at Nordstrom and they are my new fave pair. They come in multiple colors but I went with the tortoise – also love the black!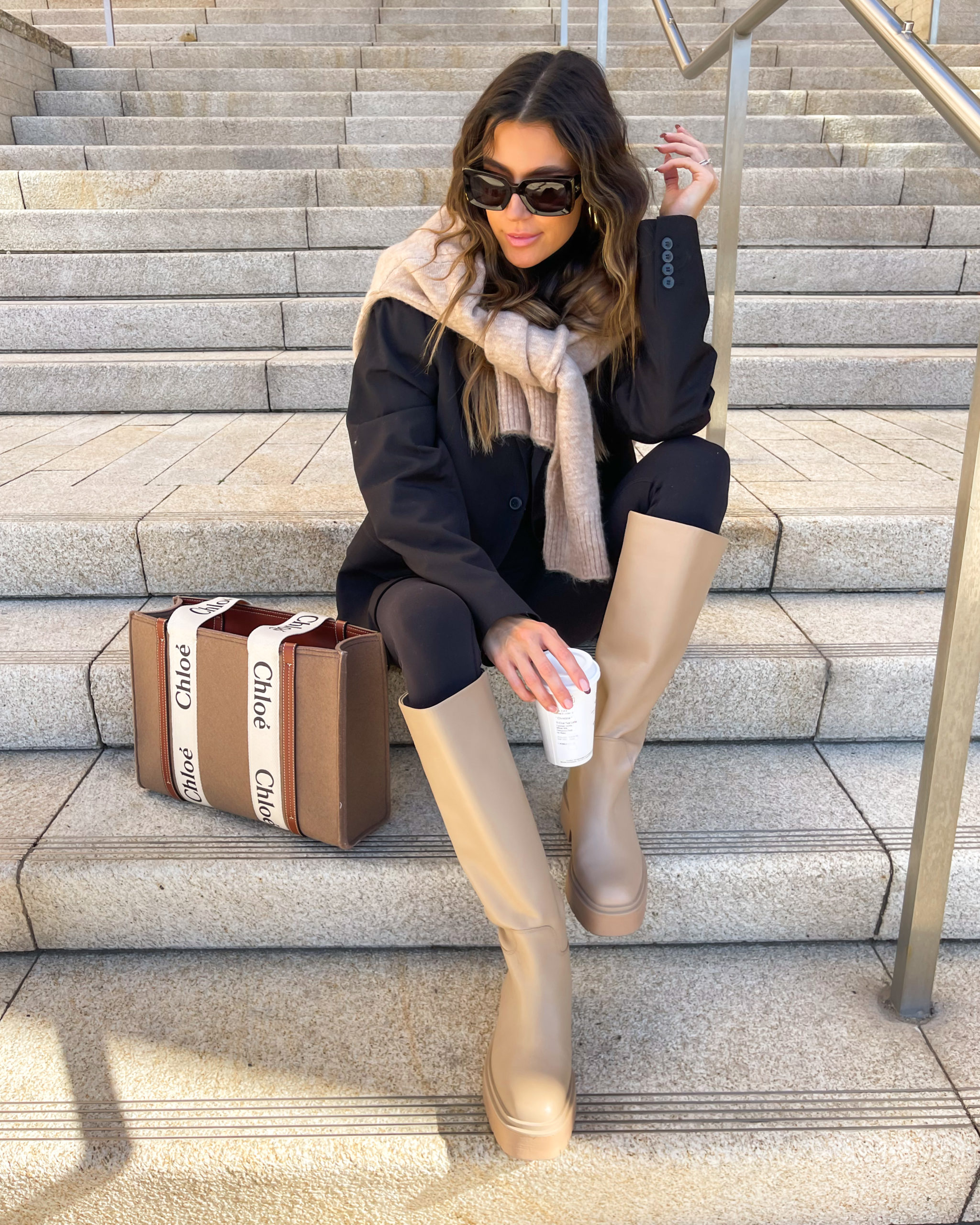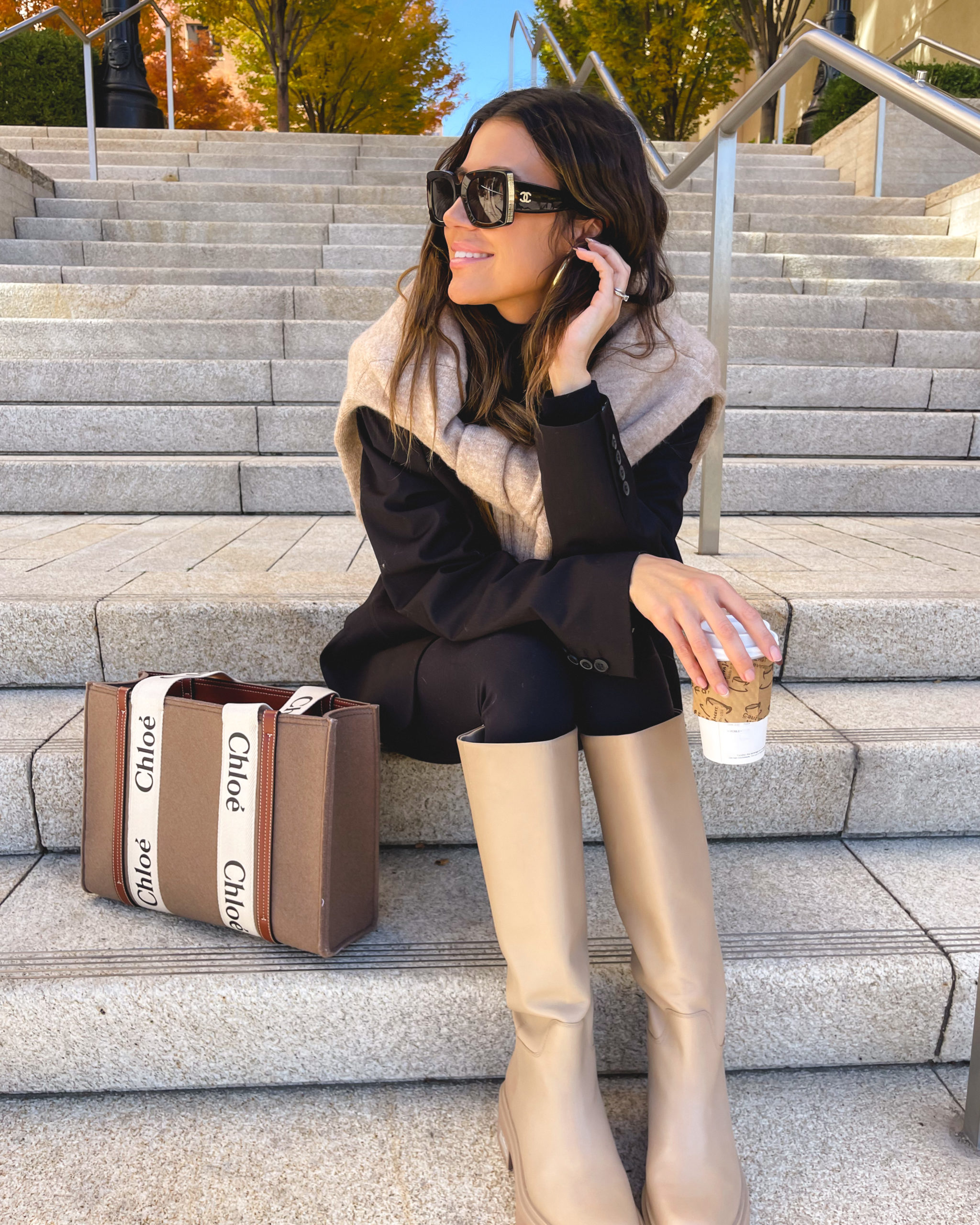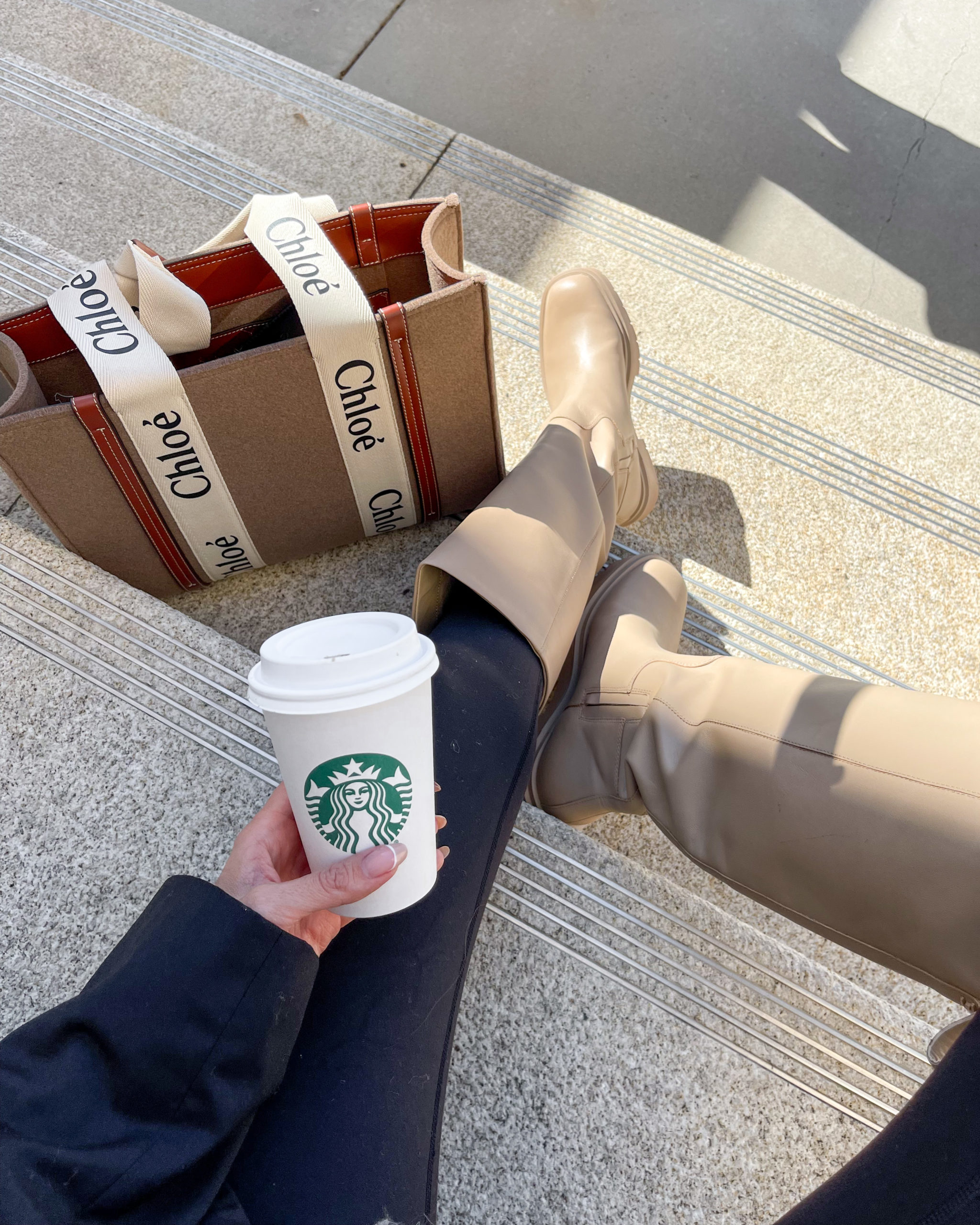 Love the color palette on this Chloe bag! Brings in the prettiest warm tones to any look.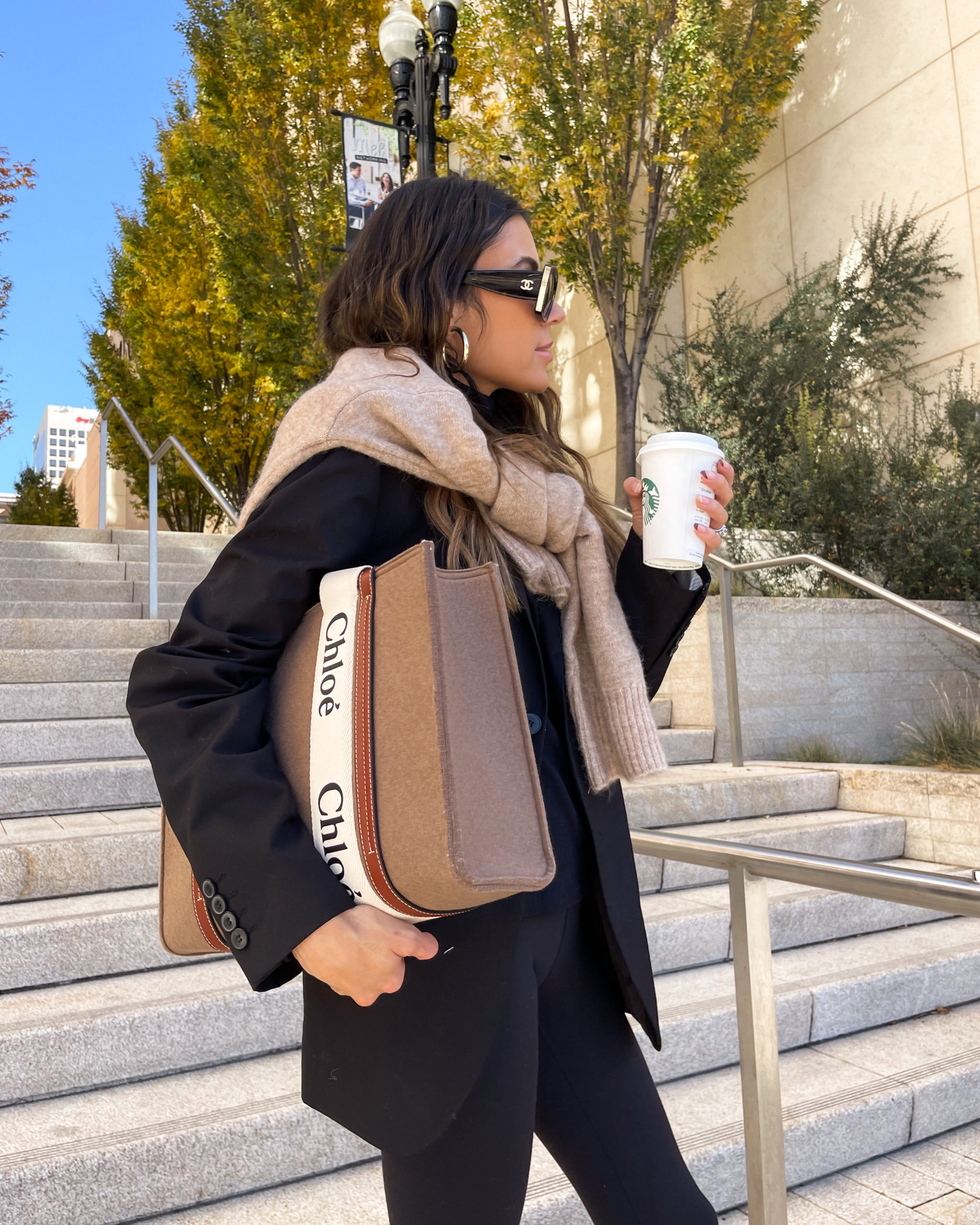 LUG BOOTS – STYLING IDEAS:
I've been getting some questions from you guys asking for more styling ideas for boots. I think with wide-leg jeans escorting skinny jeans off the fashion scene this year, we're all in somewhat of a wardrobe transition trying to figure out how to adjust your wardrobe to the new trend. So I wanted to share 3 seamless ways to wear your tall lug boots this fall.
WHEN IN DOUBT, LEGGINGS: Not that leggings have ever been out of style, but paired with tall lug boots, they are more sophisticated than ever this season and I am here for it. Blazers, oversized sweatshirts, and chunky knits are all easy additions – really the options are endless!

TROUSERS: I'm loving the look of trousers with tall lug boots. It's an effortless look and fully embraces the menswear vibe. Also works with wide leg trousers or more fitted trousers, so it's an easy recipe.

BIKER SHORTS / MINI DRESSES: And maybe the most failproof combo for any tall boots – just keep your hems high. I love these lug boots with biker shorts or, better yet, a cute shorts one piece set under a pretty shacket. (Love the fringe detail on this one pictured below.)
Shopbop Sale Day 1! Shopbop is one of my staple retailers, so when their big sale hits I stock up. Since today marks day 1, the inventory is still pretty decent but things will sell quick so it's the best day to get your hands on all the fall clothes, shoes, and accessories you've been eyeing. So many fall pieces from my last Shopbop order here are included in the Shopbop sale – fall staples that are too good to pass up – and I also went through and did a roundup of some of my other favorite finds that are part of the sale as well! Here are my top picks:
I recently wore this collared dress for Ollie's birthday party and loved it! It's the perfect neutral color and super comfy too (UNDER $100 – wearing size small).  I paired it with tall boots like these croc-embossed pair thats on the sale here.
I'm all about fringe for fall and I love this fringe knit sweater I got last month.  It's a great take on a cable knit sweater – the fringe just takes it over the top. So many good sweaters included in the Shopbop sale right now – you really can't go wrong.  This mini Jacquemus bag is the one I have in pink but decided to get the brown color for fall and it's now on sale!
Can't get enough of these gorgeousss boots and this sale is the only way they are going to be available at a discount. (Also got the tan version and they flew out of stock.) They are definitely a bigger splurge item for me but I knew I would wear them a ton throughout the season. Plus you'll immediately qualify for the 25% off once you add to cart ;). These are a more affordable option I own these in the tan and black color the quality is also amazing and I wore mine 24-7 last fall!
The oversized sleeves and ruffle detail on this plaid dress are sooo good. I paired it with these tall black boots that are also on the sale. Such a cute outfit for a dinner date!
Make sure you check out this blog post here of all my other fall finds from Shopbop that are part of the sale too!
Spooky season is here! I've been loving this fall weather and not just because it means able to wear more of my favorite cold-weather pieces. I've been posting all my fall finds and recent orders with you guys and wanted to share with you what some of the most-loved items have been from September. From cozy fall pieces to the statement jackets here is a roundup of the top 10 most-loved and best sellers.
5 FAVORITE AMAZON BUYS:
5. TAN ZIP HOODIE (UNDER $30 – WEARING SIZE L)
Been loving this tan zip hoodie for fall. It's a neutral color that goes well with so many looks- I'll wear it over a workout set or over leggings and a ribbed tee. I wear size large for an oversized fit and it's under $30. It comes in multiple colors and is so warm and cozy!
4. SWEATPANTS (UNDER $30 – WEARING SIZE M)
My current favorite sweatpants that have been on repeat lately. They are under $30 and I have them in multiple colors. I've also gotten multiple DMs from people saying they ordered 1 color and then once they got them, they were so good they ordered them in multiple other colors. So they are getting a huge seal of approval. I sized up to medium for a slightly looser fit.
There are so many ways to wear this ruched button up! So cute on with high-waist denim and transparent heels or even with a skirt and boots. It comes in multiple colors but I went with this tan color for fall. The fabric is comfortable and has a pretty light sheen to it. I'm obsessed! (Wearing size M)
My favorite blue light blocking glasses. My go-to pair that I've had for months, I love the big round retro shape and think they are so cute paired with fall outfits. I always bring them to the office when I'm looking at screens all day and when we travel, it makes such a difference!
These cozy faux fur slides have been a most-loved item this September. They are under $30 and come in multiple colors (just ordered the camel color too!). They are soo soft and cute with everyday loungewear or just as house slippers. These have becomes my go-to fall shoe .
OTHER BEST SELLERS FROM THIS MONTH:
I love the bright neon colors on these Nike sneakers! I got tons of questions from you guys on them, so they are obviously one of you guys' most-loved shares this month too. They are made from a mix of recycled materials which give them that cool deconstructed look. They come in multiple colors and are a great price at $100. Wearing these on repeat!
This stainless steel band for an Apple Watch is such a cool find to elevate the look of your watch. It's definitely on the higher end price-wise but if you wear it every day, it pays off. I wear mine so much and honestly probably wouldn't even own one without a pretty band like this one since I'm so attached to my beautiful watches. So this one is the best of both worlds.
Not only are these black heeled sandals so chic but I love how comfortable they are too. The heel is low enough to wear them around for everyday or for a night-out. Oe of my most-loved trends right now is the wide leg denim and a simple sandal is one of the most effortless ways to style it so if you haven't tried the new denim trend yet, start with these sandals.
My holy grail brow gel I use daily is the NYX The Brow Glue! Gives the look of a natural looking brow lamination and stays all day. I have tried all the designer, brand-name brow gels and glues but this one has beat them all out and it's under $10.
I can't get enough of the patchwork trend this season. It makes pattern-play so easy and gives you unlimited styling options since it ties in so many different colors. This one is 40% off right now and such a good layering piece for this fall. 
 Under $100 and I've made all my friends try it on when they compliment it because you can't know how soft/fluffy it feels until they try it on. The lining is super soft too – beyond comfortable. 
Also this matching set! It's on sale right now for under $50 at Kohl's right now and sooo good – great budget find and obsessed with the color! Wearing a S in top and XS in bottoms. 
When it comes to putting together a winning fit that you'll love (and probably draw tons of compliments on), stick to this simple formula: Staple + Staple + Statement/Showstopper + Accessories.
STAPLES:
Whether it's pieces you already own or newer fall finds, staples are the most versatile pieces that you can mix and match for multiple outfits and endless occasions. This matching set (on sale under $50) is one of those staples that I know I'll wear on repeat: the knit top is the perfect fall top to layer under an amazing chunky knit or a structured blazer or keeping it simple with jeans and your favorite fall boot. Also love these knit pants paired with fall knits or a more casual vibe with a baseball hat, cropped tank, and statement shacket. So many options to wear both these pieces, and not just for fall – the knit tank would transition seamlessly into spring and even summer with some cut-off shorts. 
STATEMENT:
You don't want to overpower your look with multiple, competing statement piece, so edit and keep it streamlined by focusing on one core eye-drawing piece. I especially love this formula in fall when layers are everything! Your show-stopping piece could be a luxe texture like this amazing sherpa coat (under $100), a cool quilted patchwork pattern, or your favorite shoe find. I have been on a major Nike kick this year. I've found so many cool color combos lately and it's getting addicting haha (have multiple of these colors and obsessed with this one). I just translate to women's shoe size – I'm usually a size 8 in womens and size 6 or 6.5 in kids/mens.
ACCESSORIES:
No outfit is complete without accessories. I usually lean towards 5 pieces or so – a bag, glasses/sunglasses, and a few pieces of jewelry. I have been wanting a crossbody, lightweight hands-free bag for when I'm out running errands with the kids and love this one. I like that it holds a little more than a fanny pack but still lightweight and I love the corduroy material for fall and winter. I can't wait to layer up in scarves and cozy beanies this fall too! Each addition adds more interest and makes your look feel more intentional and finished.