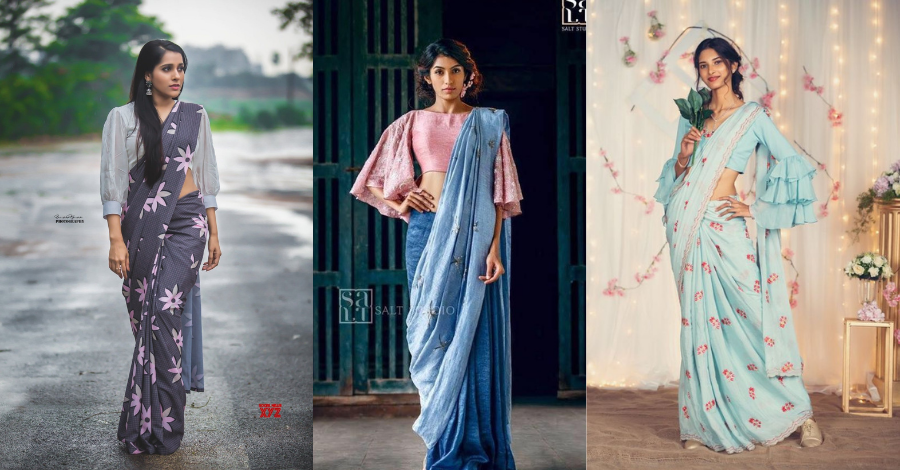 9 Attractive 3/4 Sleeves Blouse Designs Ideas
Life can never be perfect. However, your ethnic outfit can be. Never wear basic designed clothes. In fact, add a little drama to your ethnic outfit to add that extra wow factor. A little drama would make you look stunning. Always remember that 'Life is too short to wear boring clothes. There is a lot that you can add to your ethnic outfit. With this in mind, always try to play around with your blouse sleeves designs. 3/4 sleeves blouse designs can be your best friend while searching for unique elements.
Likewise, Life is a combination of a gorgeous outfit and a cute smile on a pretty face. No girl can ever be underdressed or overdressed with an ethnic outfit. And not to mention that fashion is what you buy and style is what you do with it. Accordingly, try and get your hands on a 3/4 sleeve blouse pattern. There is a bunch of designs and patterns to add to the blouse with 3/4 sleeves.
9 Attractive 3/4 Sleeves Blouse Designs Ideas
Hey, do you know?
You can choose and customize all according to your liking and the theme of the functions to attend.
We have our top picks for the latest blouse designs for 3/4 sleeves.
Minimalist Organza Sleeves
At the moment, organza is the trendiest fabric in the market. Printed or a light-colored fabric blouse is all you need to enhance the saree look. It will make your saree look more elegant. Adding the 3/4 puff sleeves would be the perfect add-on element for the blouse. At present, they are one of the most fashionable patterns out there. Indeed, they are classic and are ruling the fashion industry.
And your look with organza puffed sleeves blouses will turn the heads for sure. They are perfect for enhancing your appearance in an instant. Allowing you to accomplish a contemporary chic appearance.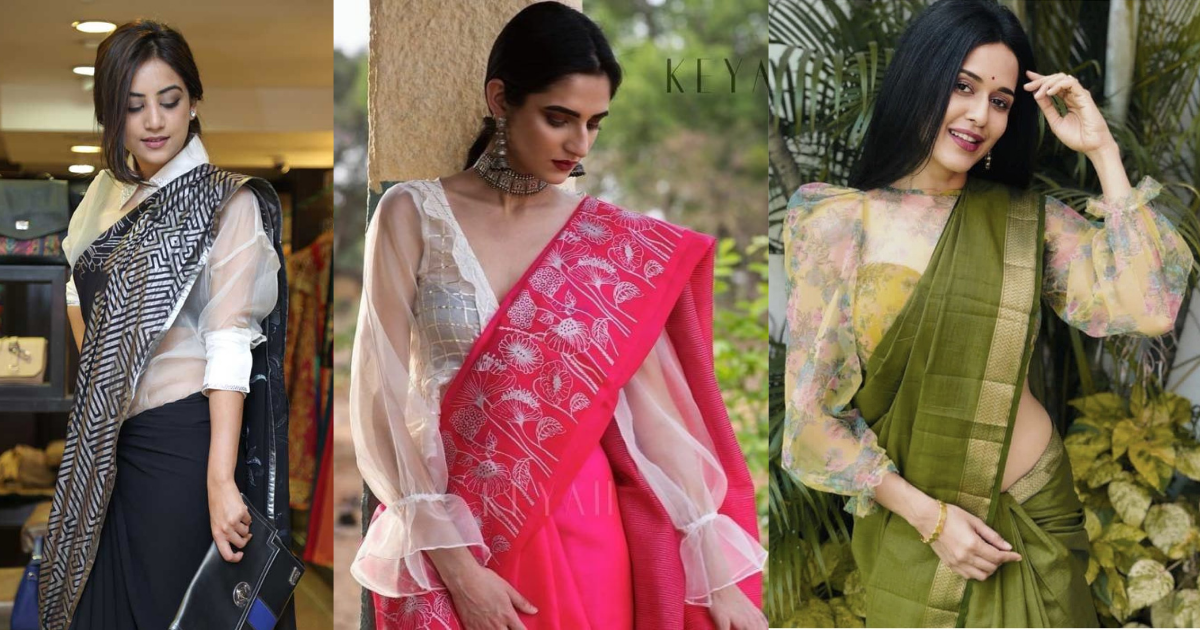 Net Sleeves with a Unique Neckline
3/4 net sleeves blouse designs will be adding that glamour element to your entire look. You can choose from lacework to beautiful embroidery on the net. Moreover, you can even play around with the neck design. You can get it done with the one-shoulder pattern or can even add a cut pattern.
You can pair this blouse with a saree or a lehenga.
Sweetheart's, the creativity is all in your hands. So, be as innovative as you can and add that unique element to your blouse designs. Therefore, amping up your whole look. They look exquisite, especially at a night function.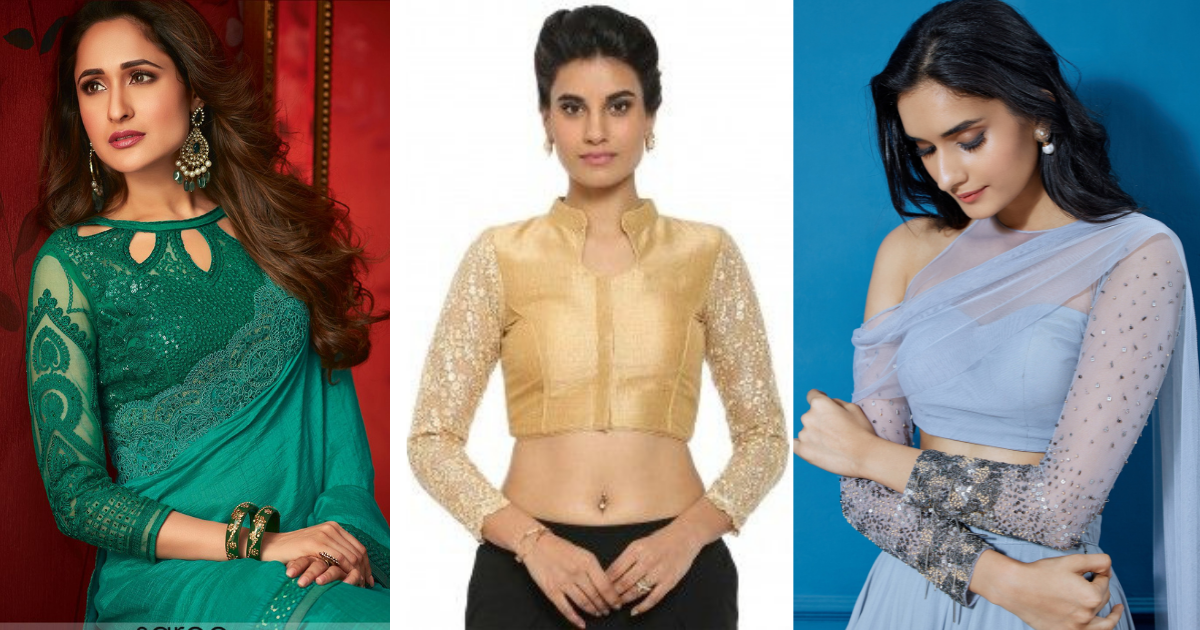 Offshoulder Blouses for that Modern Look
An off-shoulder neck with a 3/4 sleeves blouse design is stealing the show. Additionally, you can always play with the neckline. Try getting stitched in different neckline patterns such, as a sweetheart neckline or a straight one.
Wait, there is more. We have an additional tip for you. You can add beautiful chokers to complete your look. Therefore, it complements the off-shoulder blouse design. Also, our modern ethnic lovers out there, we know that you will love this. It will compliment your modernized styling.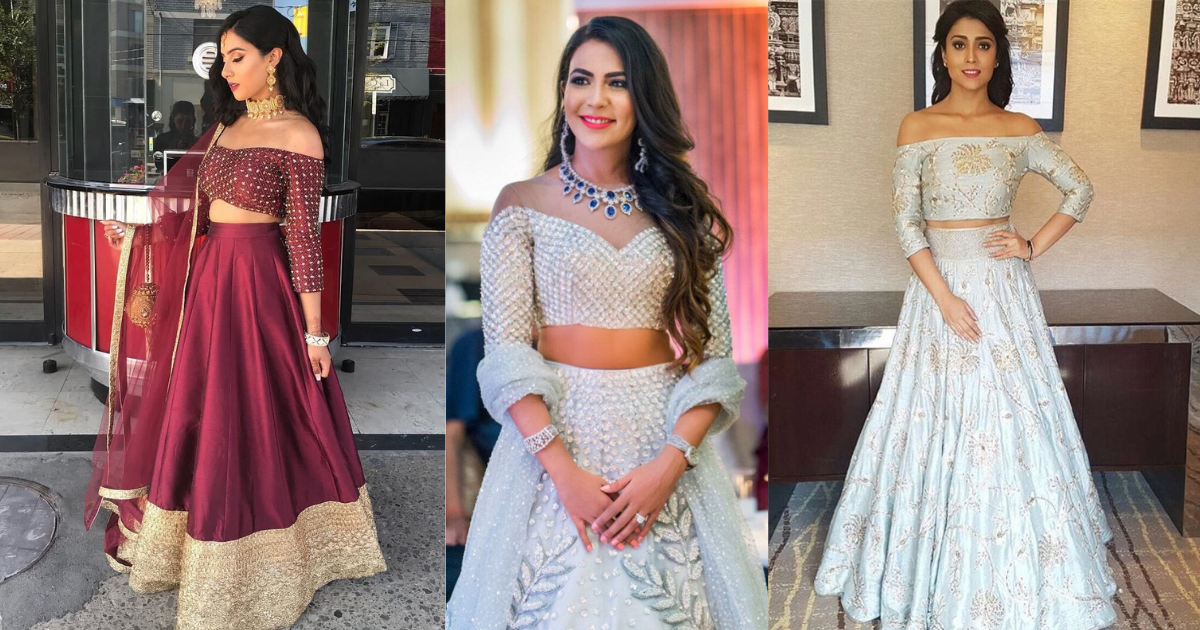 Quirky Ruffled Sleeves
Want to look quirky and chic at the same time?
Our other attractive and graceful pick from the 3/4 sleeve top sewing pattern is a pair of ruffled sleeves. They are a quirky pattern to add to the end of the sleeves of your blouse design. They look gorgeous and uplifts your appearance.
Moreover, at present, they are one of the fashionable and popular styles out there. Adding them at the sides of the sleeves adds elegance to the outfit. At the same time, it makes the entire outfit look glamourous.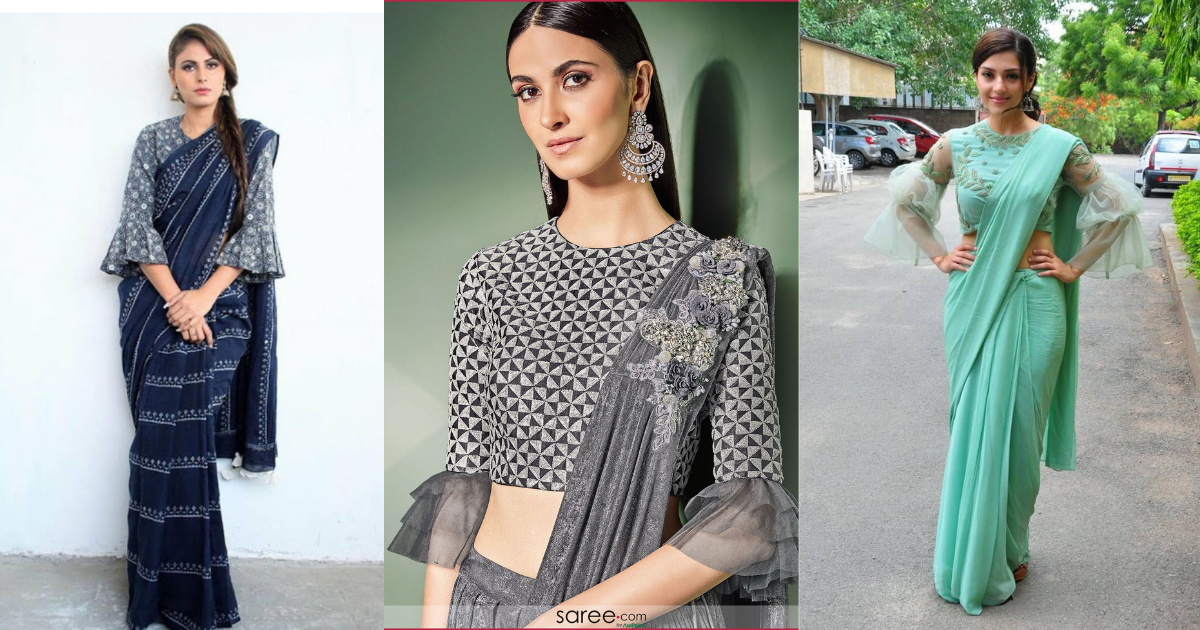 The Alluring Cold-shoulder sleeves
Want to look trendy and modern?
Cold shoulder pattern for 3/4 sleeve saree blouse designs should be your choice. Without revealing less of your body, it makes you look stylish. And who doesn't want that?
So, a little extra conscious girl's out there, cold-shoulder sleeves should be your choice for the sleeves design.
Thus, it will surely increase your self-confidence. And we are very well aware that, we the right amount of confidence we can rock any outfit.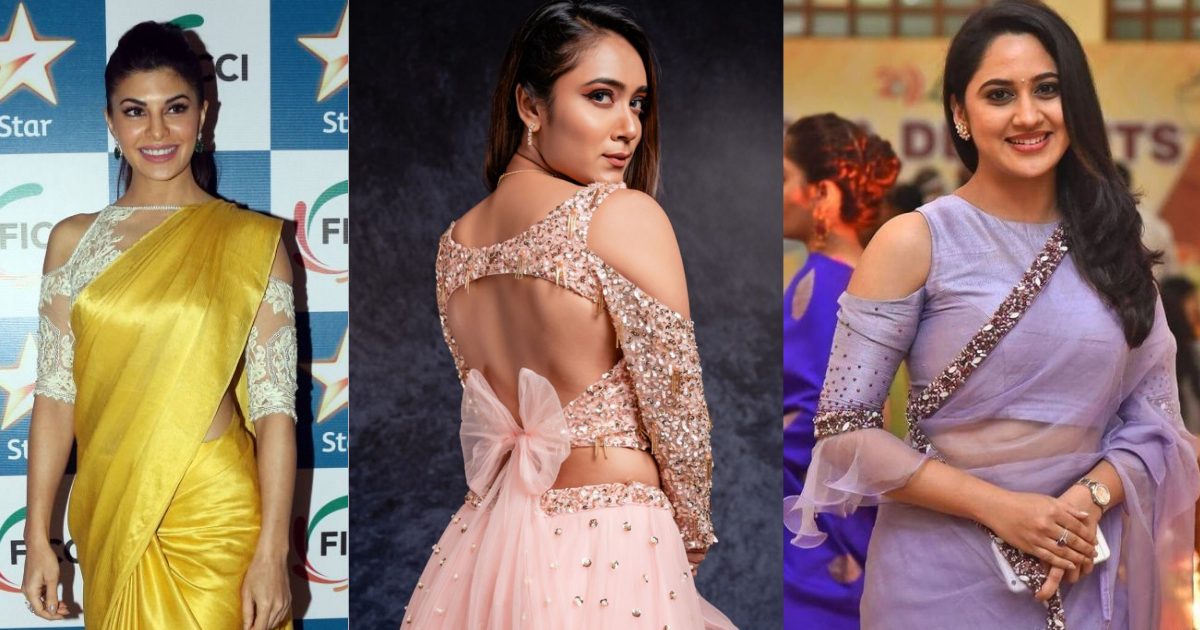 Butterfly Sleeves for the Off-beat Ladies
You can take an elegant saree look to the next level. By, simply pairing it up with a butterfly-designed blouse. For getting the exceptional look, go for a light weighted fabric. The light fabric helps to give the sleeves the flowing effect.
Don't forget to pair it with a simple and elegant saree. Try to choose sarees with delicate embroidery. Indeed, you will resemble a desi diva. And all this will make you look a million bucks. Moreover, we assure you that you will grab all the attention you deserve.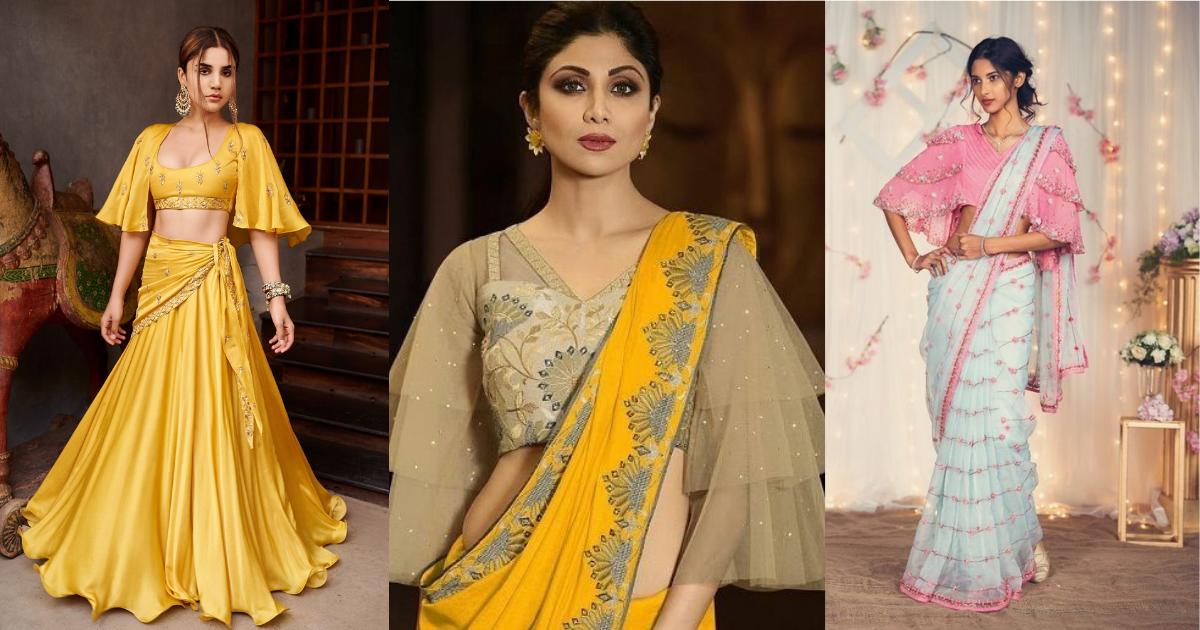 Peplum Blouse for the Modernized Look
Hey ladies, let us advise you with another chic 3/4 sleeves blouse design. That is a designer peplum blouse. They are the latest buzz in the fashion industry. Yet, do you know? They are classic pieces of clothing. Peplum blouses look elegant when paired with simple sarees. For a more enhanced blouse look, tuck the plates of the saree inside the blouse. Hence, they are the perfect indo-western inspired outfit.
They make your appearance alluring. And as a matter of fact, it allows you to steal the show and Woo everyone.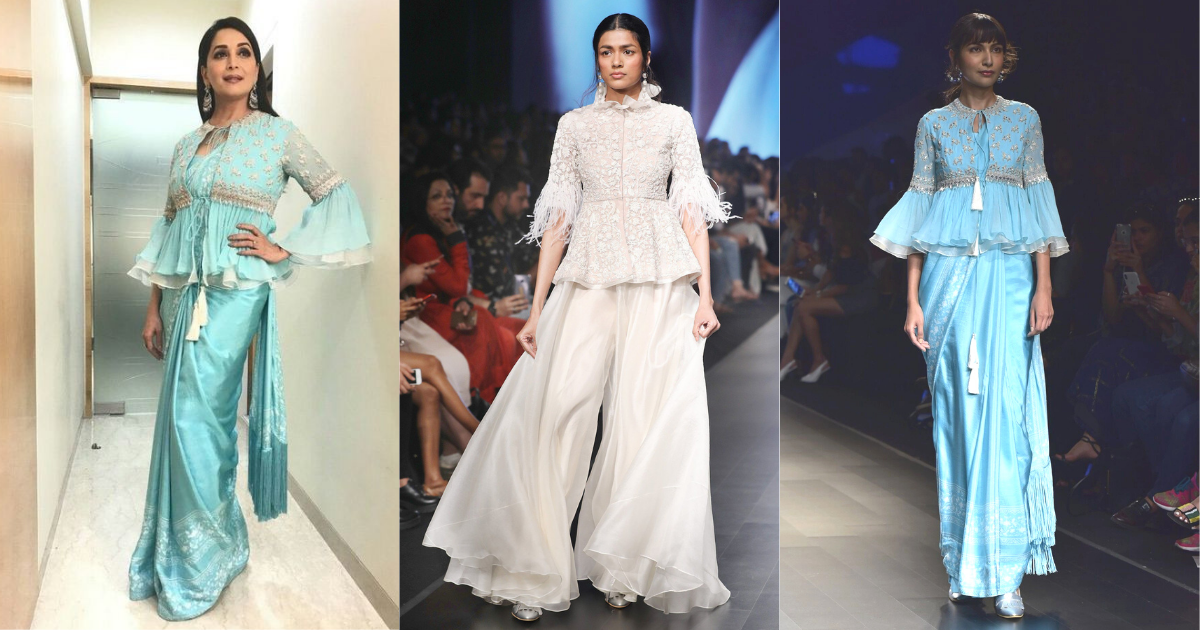 Ravishing Tassel Element
Tassels are hanging attached to the blouse for adding that bling to it. They are the eye-catching element in the blouse. You can attach it to your 3/4 sleeve blouse pattern. Or else for an off-beat look, you can opt for an all-over tassel blouse pattern. You can go for long tassels, hanging and covering 3/4 of your arms.
So, these are unique 3 quarter sleeve blouse designs and look gorgeous.
These are the perfect blouse option to go for an upcoming Haldi event or a cocktail night. We promise you that you look magnificent with the tassels.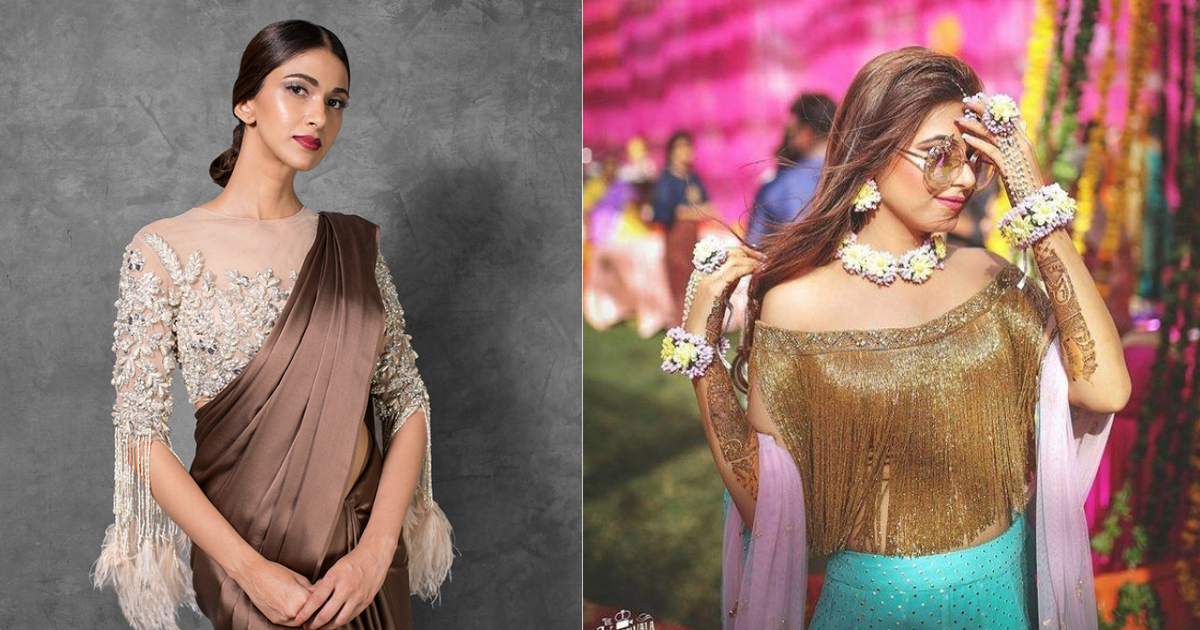 Furthermore, every girl out there wants to steal the show with her beauty and her gorgeous dress. Our 3/4 sleeves design for blouse should be on your bucket list. Next time whenever trying to get a blouse customized, do remember our suggestions. Taking everything into account, the list has been specially curated for our modern yet classic ladies .
Besides a beautiful 3/4 sleeve blouse neck designs always carry graceful jewelry. With our tips, you can surely rock the next event that you will be attending .