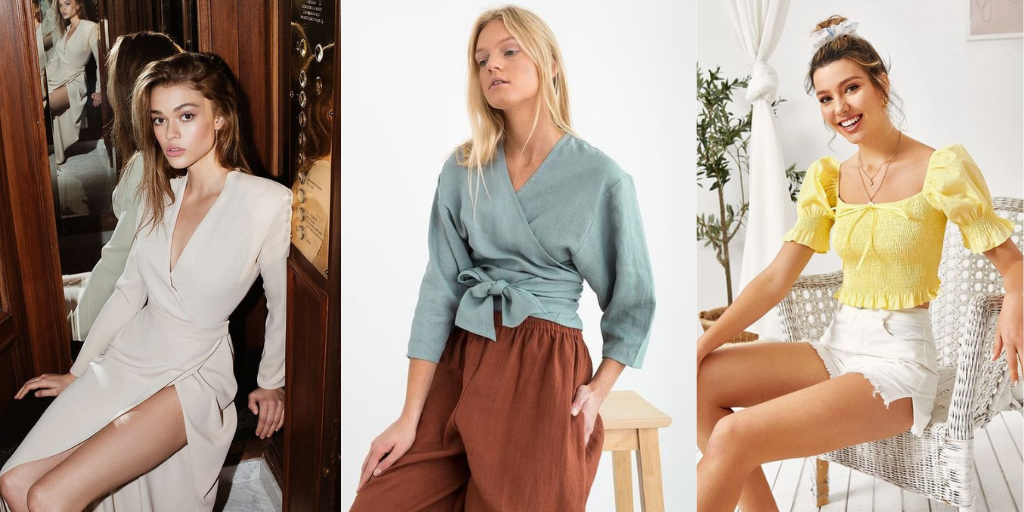 Flattering Tops for Women with a Heavier Chest
Only a women with a heavy bust can understand the pain of sporting the strapless and deep neck tops that are trending these days. While you might try these trends in the name of fashion, they are sure to make you feel uncomfortable and look shabby. One should always dress according to their body type and a heavy chest requires special attention when it comes to choosing which tops or dresses to sport. "If you got it, flaunt it," doesn't always work for women with a big bust and therefore one must learn the art of careful flaunting. Looking for flattering tops for women with a heavier chest? From wrap arounds and v-neck tops to sweetheart neckline and flowy silhouettes, here's a list of styles that you sport and look absolutely gorgeous in.
Here are Some Flattering Tops for Women with a Heavier Chest
Wrap Around Tops for More Breathing Space
One of the most flattering and comfortable tops for women with a heavier chest is a wrap-around top. Wrap-around tops offer plenty of breathing space, more so since they are lose from the top and belted at the waist. For a better fit, you can try going a size up from your usual fit so you can have plenty of breathing space around your chest. Since wrap around tops have adjustable strings around the waist, a bigger size won't be too lose.
V-neck Tops to Shift the Focus
If you wish to conceal your heavier parts, the best idea is to shift the focus away from them. V neck tops are the perfect cheat sheet for women with heavier breasts. They are cute, versatile and the clavicle-barring cut makes sure that the focus shifts from your chest to your neck. You can style these tops with long, delicate necklaces. Do not wear a choker style necklace as that will defeat the purpose of the v neck. You can also wear cute v-neck lacey camisole for a comfortable and stylish look.
Smoked Tops for a Super Comfy Fit
Smocked tops are not only comfortable, but are also super trendy and fun. Smocking is a technique which uses elastic to add stretchable margin on an otherwise stiff cotton on linen fabric. Smocking provides just the right amount of stretch for heavy breasts and prevents your chest from feeling claustrophobic. You can choose from a wide variety of smocked tops available like smocked peplum tops, smocked tops with puffed sleeves or a simple top with a smocked back. All of them look equally cute and are super easy to style.
Sweetheart neckline for Just Enough Cleavage
Sweetheart neckline is one the oldest, most versatile trends. If you struggle with heavier breasts, sweetheart neckline is super easy way to flaunt just enough cleavage without going too low. Deep neck tops look shabby if you have a heavier chest area and cannot carry a cleavage well. To avoid that, opt for a full sleeved or cut sleeved top with a sweetheart neckline. Similar look can also be achieved with a scoop neck or a boat neck. These neck patterns are just the right amount of sexy and not stifling like a turtleneck.
For dresses – go for flowy bodice
Looking for a silhouette that hugs your body but leaves enough room for your heave chest? Opt for flowy materials like Satin or silk. These materials will hug your body in a way that helps you flaunt your curves without suffocating you. Let a satin or silk dress flow with your curves or add a belt to cinch it at the waist for more definition. Satin and silk are not only comfortable for women with heavier breasts, but are also super elegant and perfect for formal outfits. You can either go for a satin dress in a solid color or if you love experimenting, you can try satin dresses in abstract prints.
Co-ord sets to create an illusion
Co-ord or matching sets come with many benefits. Not only do they solve the dilemma of matching your clothes, but they also create a perfectly balanced illusion for anyone with disproportionate curves. One of the most important benefits of buying a co-ord set is that you can buy the top and bottom in different sizes. If you often come across dresses that fit you from the bottom, but are too tight around your chest, co-ord sets are perfect for you. You can wear the two items together or style them separately as per your choice.
What Not to do if You Have a Heavy Bust            
Avoid Clothes With a True Empire Waist
Empire waist clothes are a strict no-no for women with a heavy chest. These tops cinch right below your chest giving it an even heavier appearance. Since tops with empire waist have seams above your natural waist, they are perfect for women with smaller breasts and a heavier waist. But for women with a heavier chest, these tops might look like maternity clothes. Instead. Opt for silhouettes and cuts that are flowy or have a wrap-around style that will make you torso look elongated.
Tops With In-Built Cups are Never Going to Fit
If you're someone who struggles with a heavy chest, absolutely avoid buying clothes that have in-built cups for your breasts. Readymade tops with in-built cups or external bra details almost always come with cups that are fit for a size B. So if you have heavy breasts, there is absolutely no way that these will fit you. Instead of awkwardly sporting ill-fitted tops in the name of fashion, get tops or blouses custom stitched as per your measurements.
High Necks or Turtlenecks Will be Too Stifling for a Heavy Chest  
Turtleneck tops are not suited for women with a heavy chest as they tend to make the bust look even bigger. In fact, any top with a neckline close to the neck will be too stifling for biggest breasts and will distort the proportions of the body even further. If a high neck top is made with a dense material, it will even highlight and accentuate your bra from underneath your top. If you're still into high neck tops, style them with a hoodie or a blazer to split up the visual and interrupt the silhouette.
Avoid Fitted Button-Down Shirts at All Costs
If you're wearing a button-down that is fitted at the chest, it is inevitable that the buttons will pop awkwardly when your move around. Button downs are almost always ill-fitted for heavier breasted women. This is something you cannot have your way around even if you go up a size. Oversized button downs look even more awkward at times. Instead, wear solid colored plain tops or formal satin tank tops and blazers for a formal look.