Outfits for Bridesmaids: 9 Different Styles
The moment a lady says 'YES' to her prince charming. She is loaded with a bucket full of responsibilities. That's when she needs her bridesmaid's back. And they are responsible to take care of millions of tasks. Indeed, all this starts from helping the bride find the perfect D-day dress to throwing the most amazing bachelorette party to calm her down, and so on. You have an extensive task list to accomplish. An important task is also to find outfits for bridesmaids.
As all the pretty, hardworking sisters and friends of the bride. Whatever happens, you all too, need to look ravishing on your favorite's D-day. After all, Indian weddings are full of eligible handsome bachelors in the town. Maybe you will become the next bride in the group.
So ladies, while ticking done on the bridesmaid task list. Please, don't forget to hand-pick your ethnic dresses to look beautiful in all the ceremonies.
We all agree on the fact that shopping for the best Indian bridesmaid dresses could be a hassle. As we know there are plenty of options out there in the market to select from.
But, worry not here are our nine trendy pick-ups to ease your work for selecting the outfits for bridesmaids.
Outfits for Bridesmaids: 9 Different styles
Have a look at the list of different styles of dresses that we have curated just for our gorgeous bridesmaids. Hope it helps you.
1. Contemporary bridesmaids first choice – an off-shoulder blouse 
When in doubt, blindly go for an off-shoulder blouse with a skirt. An off-shoulder blouse helps you embrace your neckline. That will keep up your desi feeling alive with a touch of modernized clothing. Organza blouse will be your best friend and will make you look glamorous. Thus, these could be the perfect sangeet outfits for bridesmaids.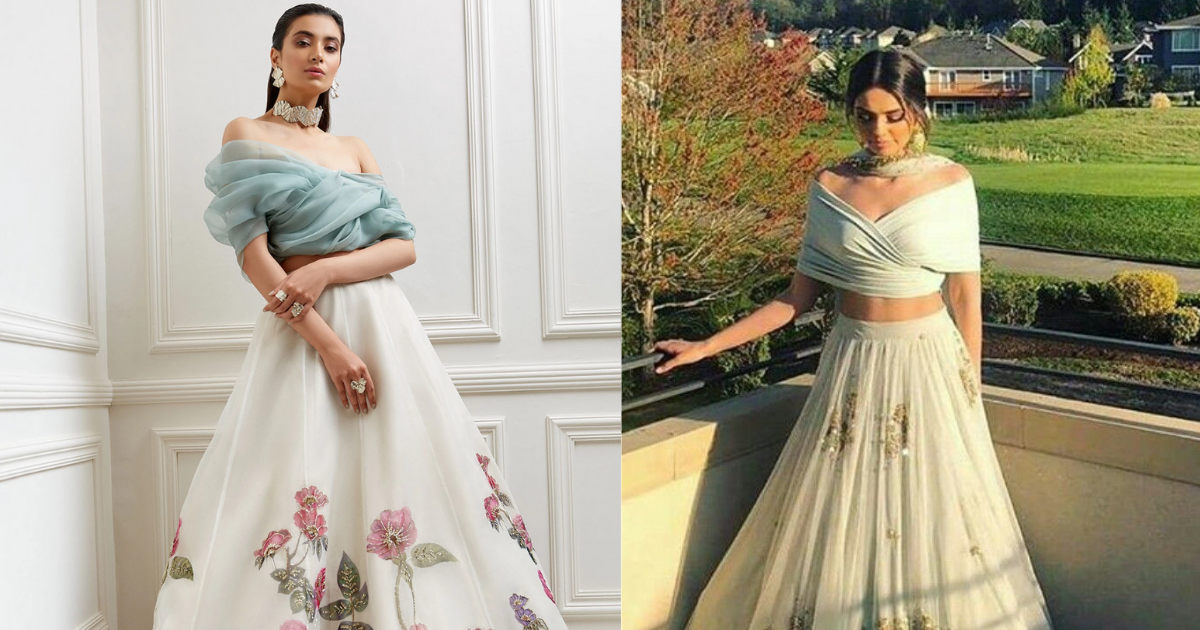 2. Ruffle dupatta for the trendy bridesmaid
In the first place, a lehenga is a classic outfit for an Indian girl. Nowadays, our modern bridesmaids need a little off-beat element. And Ladies do you know?
Pastel and Ivory-colored lehengas are the buzz in town. Moreover, for a contemporary look, go for a ruffled dupatta rather than a simple dupatta. This combination is all that will make you look marvelous, my pretty ladies. And as it is said more is more but Less is Bore.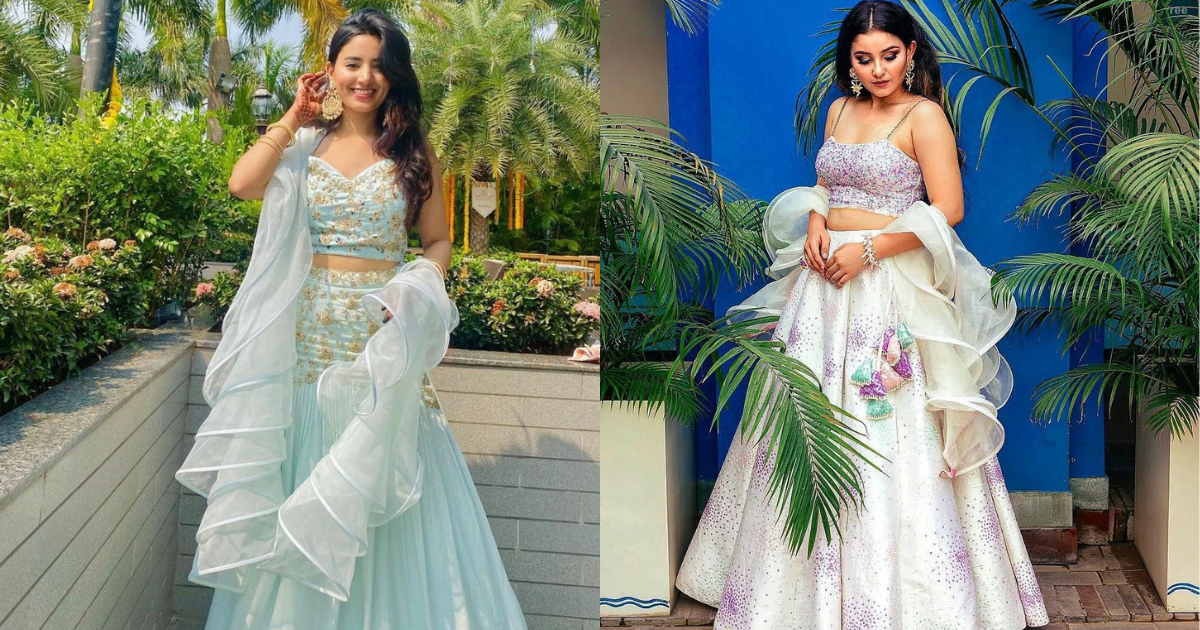 3. Drape Palazzo dress for an off-beat bridesmaid
A fashionista bridesmaid wants to look a little off-beat. A drape palazzo dress is appropriate to be opted for, by you. Moreover, this indo-western dress is a perfect blend of Indian drapes and westernized palazzo pants. However, these are the chicest outfit to go for. Make sure to have a beautifully embroidered blouse with it. As the blouse will be adding drama to the outfit. You can easily slay your best friend's day with it.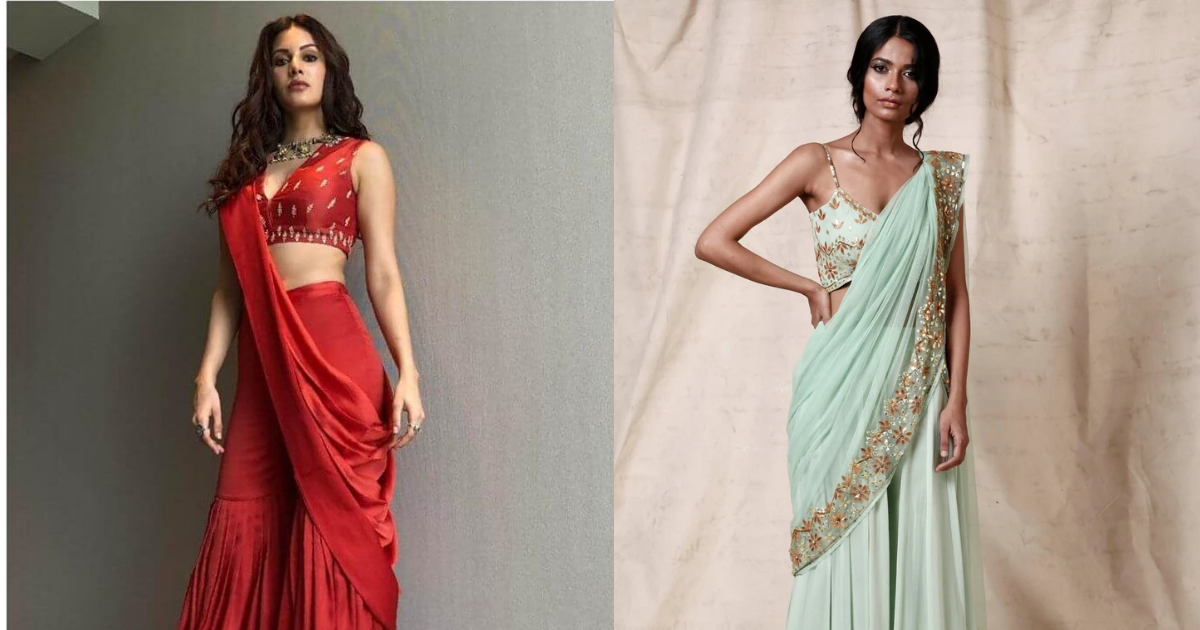 4. Statement shirt and a lehenga is all you need
A statement satin blouse paired with an embellished lehenga is all that you need to rock the function. Don't forget to go for trendy sleeves. As stylish sleeves add up lots to the blouse as well as to the outfit. The heavy lehenga and a chic shirt will compliment each other. And, yes will make you showered with compliments as well. These could be the perfect sangeet dresses for a bridesmaid. Moreover, they are easy to carry and dance around throughout the night.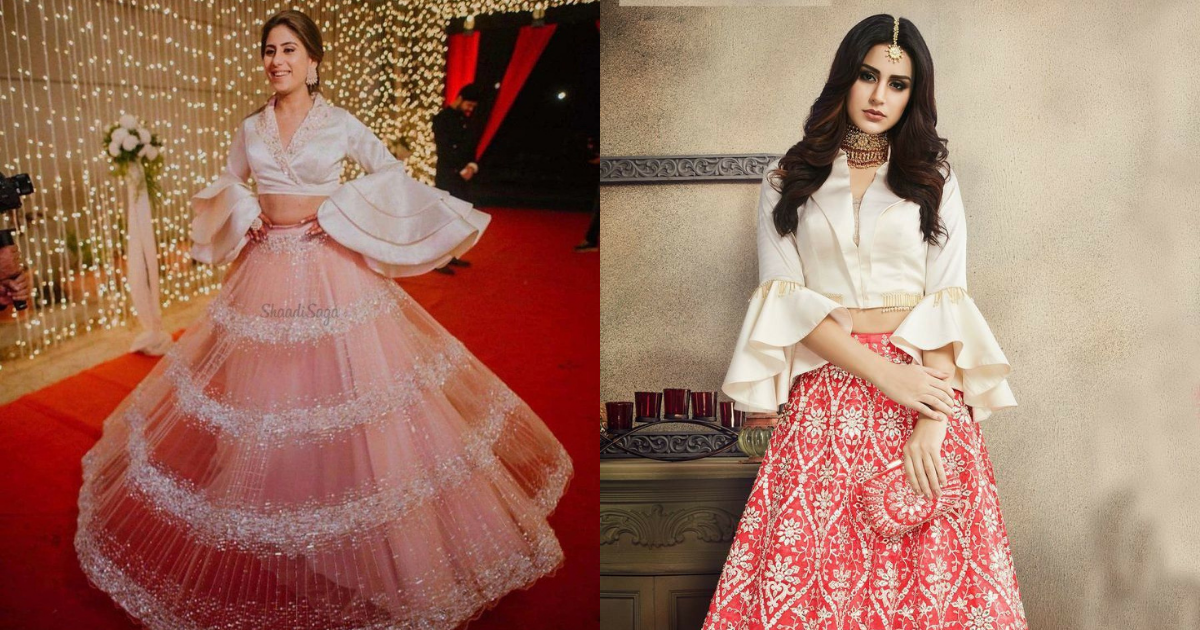 5. Ruffled Saree with a twist of a belt
As a matter of fact, an Indian woman can never so no to a saree. Ruffle Sarees with a belt detailing are the perfect type of traditional bridesmaid dresses. A girl can never go wrong with a saree. The Ruffle saree is the most trendy outfit. This can be carried effortlessly throughout the function. Moreover, the belt makes it look modern and elegant. So, be ready to rock the desi girl inside you.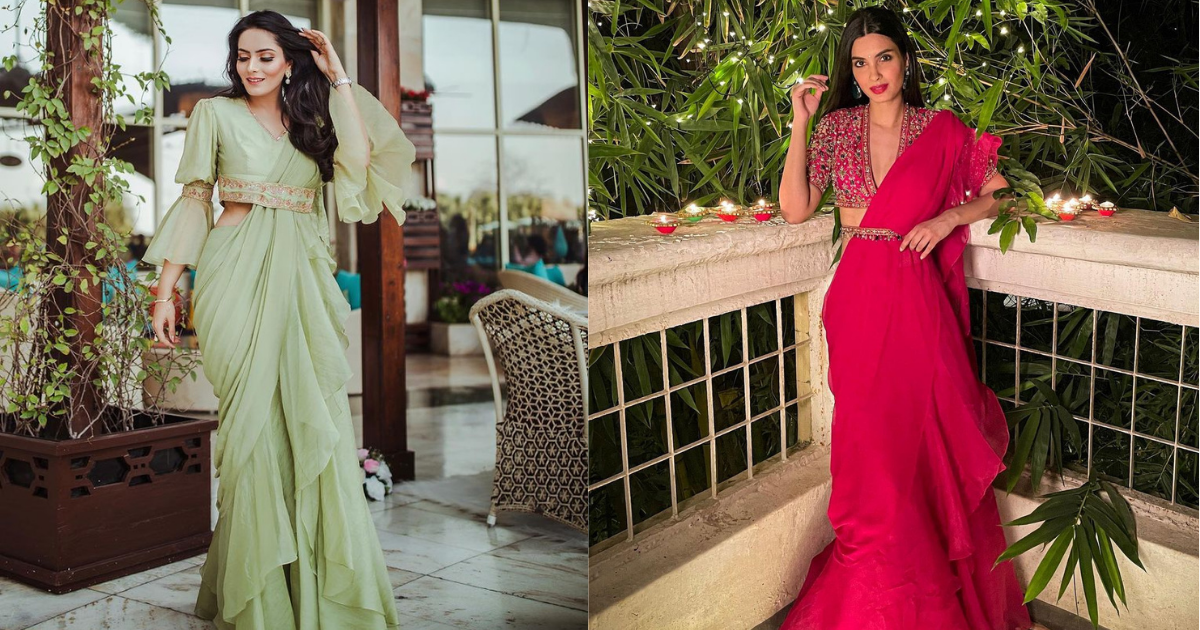 6. An elegant fairy gown 
Ladies, in all honesty, a ball gown or one with a trendy front design is all you need.
With the right hairstyle, it will make you look like a barbie doll. Everybody loves to look cute as well as beautiful. Then a gown should be your choice. You can rock this in an engagement or a cocktail function.­ We can guarantee you that.
Furthermore, don't forget to twirl around and capture yourself dressed as a princess.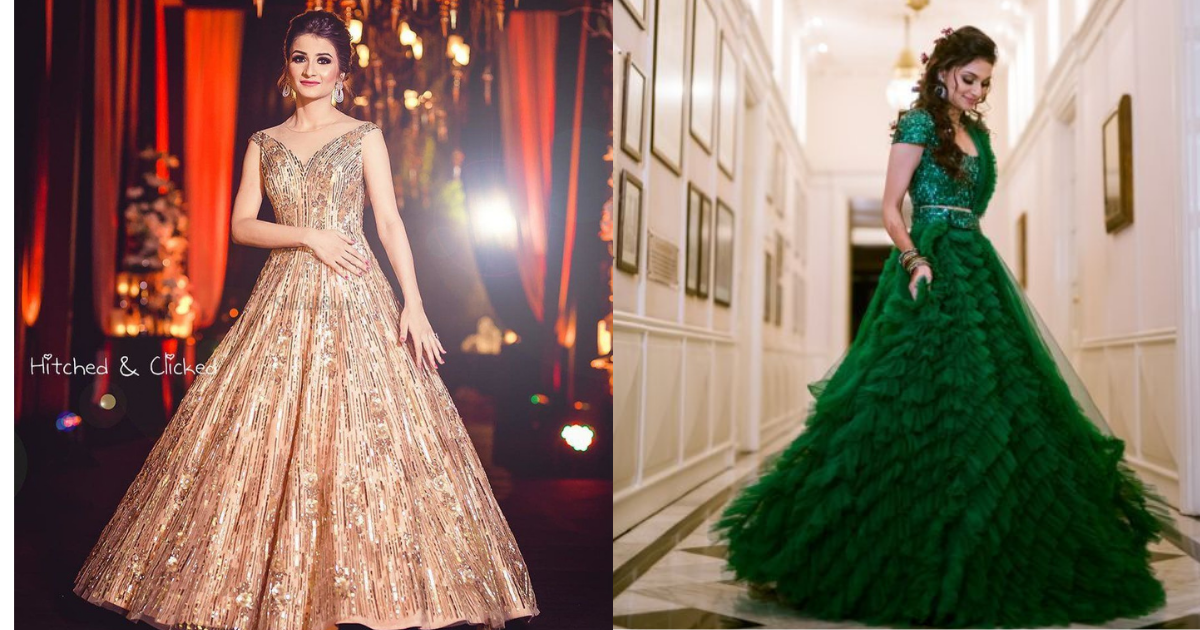 7. Delicate shrug paired with a dhoti skirt
Dhoti skirts are examples of perfectly modernized clothing. They have been inspired by skirts and dhotis. But, they are distinctive yet give you a chic vibe.
Bridesmaid gang, don't forget to pair it with a shrug and a crop top inside it, for a stunning look. But, here is a tip: opt for shrugs with just the embroidered borders as the lightweight shrug will make it easy to dance around. It will make you look marvelous.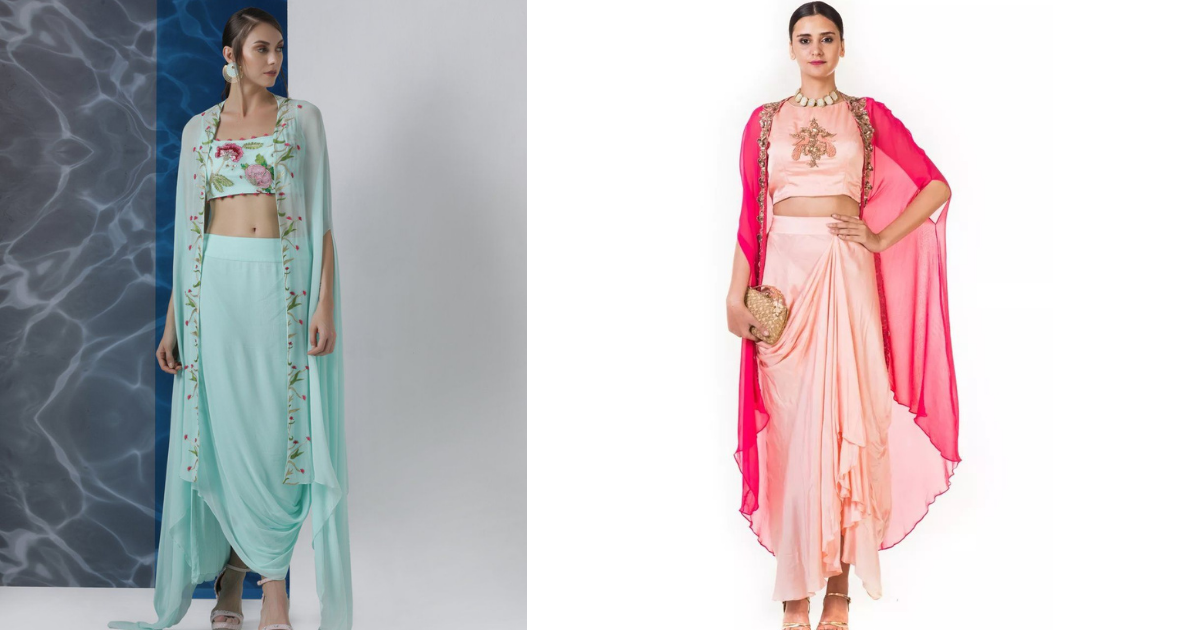 8. An Off-beat sleeves blouse 
As it is said, Girls have the right to be dramatic, so why not her dress portray that? Puffed sleeves blouses or any designer sleeves are amongst the trendiest style. In fact, unique kinds of sleeved blouses paired with a lehenga amp up the entire outfit. Our stylish bridesmaids don't forget to get your hands on it. It is appropriate for our modern yet elegant bridesmaids.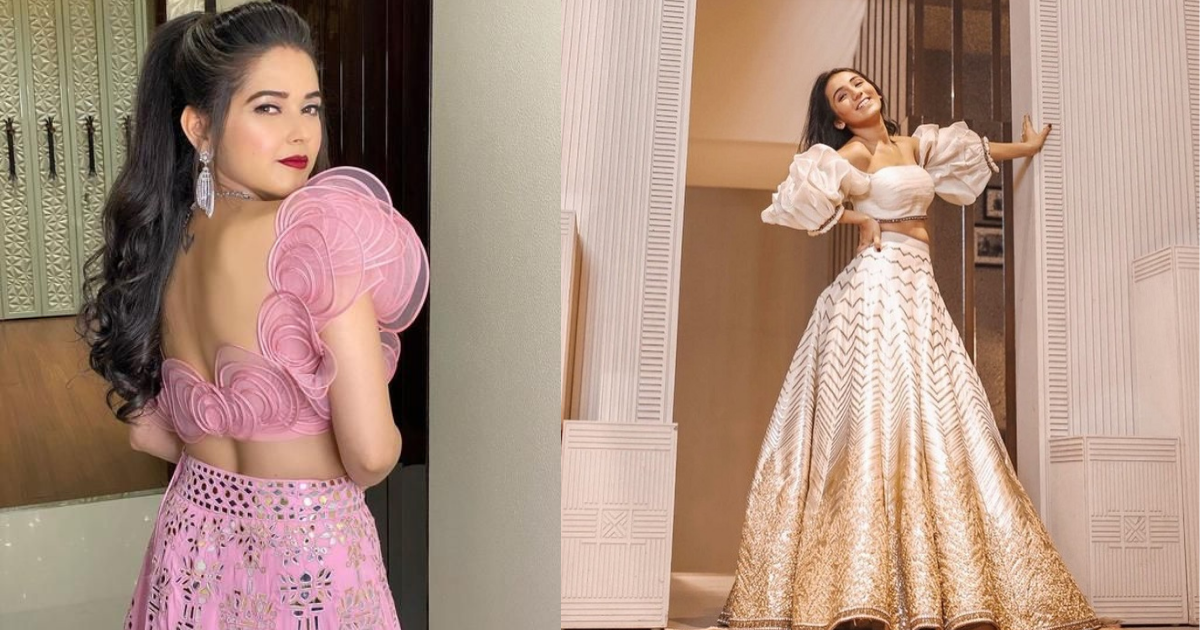 9. An ethnic-inspired jumpsuit
A jumpsuit is single-piece clothing inspired by western culture. Adding a traditional touch to it enhances its looks. Thus, the indo-western beauty of the jumpsuit can be added with various types of embroidery. Floral embroidery or mirror work can be your go-to option. As they make the outfit look ravishing. And, allows you to leave a little sparkle where ever you go. A jumpsuit is its own kind of beautiful. Furthermore, it will make you look extremely gorgeous.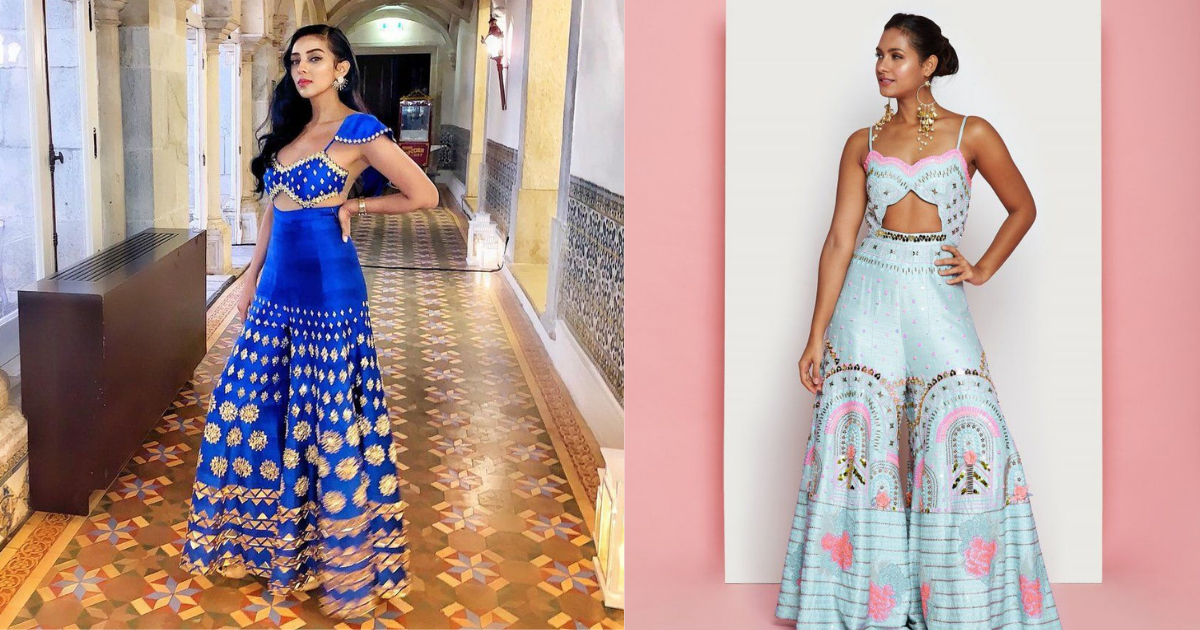 The trendy picks are the best outfits for bridesmaids
Hence, all you beautiful bridesmaids don't forget to capture all the fun, loving, and emotional moments while slaying in your glamorous outfits with your best friend. Because we all know that these moments aren't coming back. And in the end, we just have the memories to cherish for life.
Indeed, we all know that when a girl is dressed in an ethnic outfit no one could stop themselves from admiring her grace. So, when in any doubt, go and grab an ethnic dress.
Ladies, now, it's time to wrap up the session. Moreover do remember our suggestions for bridesmaid dresses for an Indian wedding.  They will surely help you, slay the day. As we previously stated who knows your next in line.