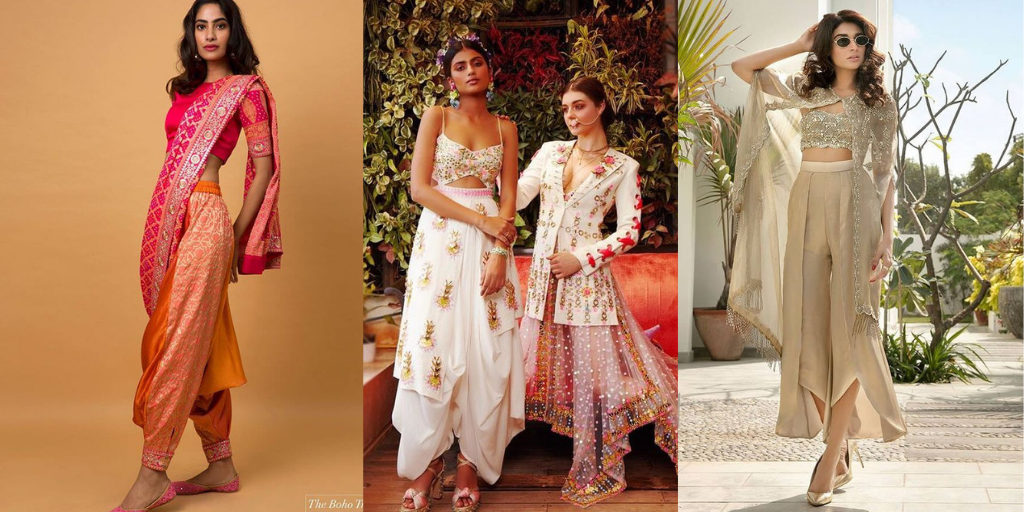 Looking to Create The Perfect Indo Western Outfit? Here are Some Ideas!
While ethnic outfits are definitely the best part about weddings, sometimes they can get monotonous too. Thankfully an indo western outfit is definitely the best way to amp it up! It greatly amplifies the scope for experimentation and creating outfits that are unique. They are also a great way to repurpose and save up on some bucks. If you are a guest at the wedding then indo western is definitely game for you for any event. However, if you are the bride then consider experimenting with it for any event except the wedding day. Reception sure is the perfect event to adorn such an outfit. The best part is that the market has a huge collection of them for both men and women. So if you are planning to match with your partner there's a whole lot for you to play around with. We're here to make it easy for you to decide the best option for you. 
Here is some inspiration to help you pick the perfect indo western outfit.
Indo Western Outfit with Palazzos/Gararas
Gararas are as Indian as it gets. However, if you know how to create indo western fusion dresses then they are extremely versatile. Of course, palazzos definitely are the best way to create indo western looks. You can pair some nice printed palazzos with plain, solid velvet blouses. Add some nice kundan jewellery and a pair of pretty heels and your outfit is sorted. If you wish to play around with garara style pants then you can work with something printed. Pair the printed garara with a simple solid blouse again to complete the look. Of course, if print on print is something you think you can pull off the go ahead and do that. 
What you'd notice is the blouses are mostly high neck to add that touch of western to the look, so maybe consider that. Going along the same lines if you wish to add more of an element of indian to the look then play with a saree pallu. Your palazzo or garara with a simple covered neck blouse with an attached pallu. This will help you create an effortless and beautiful indo western saree look.
Dhoti Saree
If you love sarees but wish to do something a tad bit more western then dhoti sarees are perfect. They are trendy, chic and super unique also. It sure makes for perfect indo western outfits for female. You can create a monochrome look, or one with two complimentary colours or one with contrasting colours too. All of them would shine because in an outfit like this all elements of the outfit would be clearly visible. The best part about a dhoti saree is that it comes already pinned up so there's no stress about draping it. Of course, some nice pair of heels will only amp up the look. However, you can even go for juttis for they would look perfect with them. We'd recommend opting for embellished juttis.
To add another western element you can go for a pretty sleek belt to complete the look. You can go for some heavy western earrings and your look will be sorted. Make sure you keep the makeup and hair simpler to keep up with the elegance of the outfit. 
Slit Saree
Now if you are looking for something sexy then this definitely makes for one of the best indo western dresses for ladies. Slit sarees will definitely make you shine. Especially if you have the confidence to carry it. That is very important. Make sure you opt for this only if you are comfortable with something like this. Go for something shiny and bright to add that touch of indianess to the look.
You can surely play around with these elaborate wire type pallus to create something rather unique. You can even experiment with the type of pallu draping to make the look stand out. Since it's a pretty royal looking outfit make sure you don't go overboard with the colours. Stick to one. You can go for some sleek diamond jewellery for a look like that and definitely heels that will shine for they sure would be visible. Go for a sleek hairstyle for a sleek dress like this and you are ready to rock the cocktail night. 
Pants for The Win
There's really no simpler way for westernising an Indian outfit. Go for some plain flared or cigarette pants and you are basically sorted. Make sure they end slightly above your ankles and you can also adorn a dainty anklet with it. You can pair it up with a kurti for a simpler event. It could even be a cinched up kurti like this. You could opt for a heavy blouse if you are going for simpler pants. Add a belt to the look if you like or you could even add a light shrug. This definitely would classify perfectly as indowestern fashion. Lastly, if you are feeling like experimenting then go ahead and play with asymmetrical tops. 
Blazers for Indo Western Outfit
This is as indo western as it gets. Go for a full western look with blazer pants etc and then work with some indian print or embroidery on it. Sonam kapoor's girl boss look here is definitely something different. So if that's the vibe you are going for, then opt for something like this. You can even do some straight fitting gowns and add a blazer on top. A belt too would look great on a look like this. We're loving the whole asymmetrical gown thing here and the embellished blazer is just perfect. Keep the hair out of the face and let your outfit shine. For something bold like this a bold lip would definitely work. 
Shirts, Sarees and Lehengas
The trendiest way of creating indo western outfits is pairing up your indian pieces with shirts or shrugs. A white shirt is the chicest option to help you create quirky indo western looks. This definitely is a rather cool indo western attire for female. Get out your favourite lehenga with some heavy work and pair it with a simple white shirt. It's really that simple and offers such a great opportunity for repurposing. You can add some heavy neck pieces with a look like this. A kundan set or some oxidised silver jewellery would look amazing with this. 
Another trendy and quirky way of creating indo western outfits is by pairing your fav saree with a western shrug. For winters you can even opt for a silk saree with a blazer or a faux leather jacket. 
Jumpsuits
Effortless and super easy to source, jumpsuits make for great indo western dresses for wedding events. Their highly embellished styles are perfect for the bride to adorn for her mehendi or cocktail. If you are someone attending and planning to go for a jumpsuit you can find some lighter jumpsuits options too.
These were just some ideas for great indo western outfits that you can choose from. For any assistance in wedding planning and shopping get in touch with us at Styl-Inc and let our team of experts guide you efficiently.