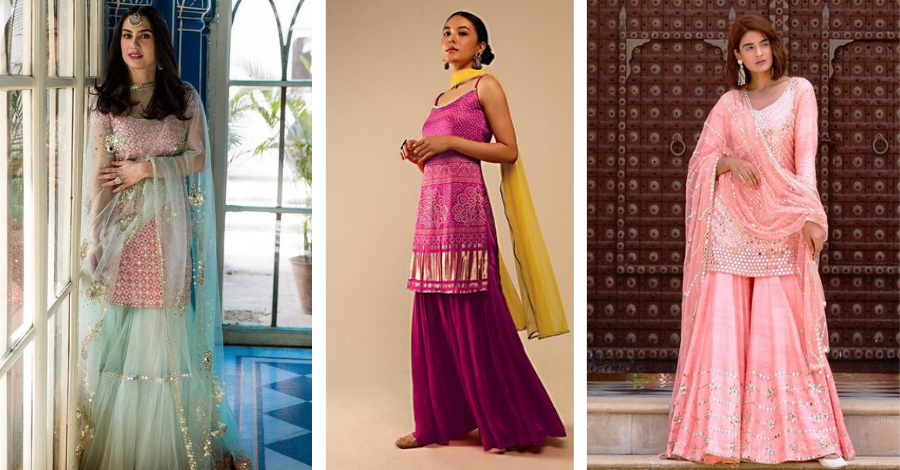 The Difference Between Sharara and Gharara: What Sets the Two Apart?
A sharara is also called Who remembers the absolutely beautiful sharara suit worn by Kareena Kapoor Khan in Bole Chudiyan? We sure do! The sharara has been a staple traditional pant for events since the song debuted for good reason. The drama associated with the full and flared sharara set is loved by everyone. So much so, that as a variation, it's not so long lost cousin gharara has started making the rounds. With the two of them roaming the circles of Indian events together, the difference between a sharara and a gharara can be difficult to see. But worry not, we are here to clear any confusion you might have related to the two. 
Difference Between Sharara and Gharara
1. What is a Sharara?
In the simplest terms, a sharara is a pair of flared pants. They are completely loose around the legs and have a rather impressive flare. The flare is why a sharara is also referred to as lehenga pants. They are quite often embellished with beads, pearls, sequins, zari or gota patti. Shararas are the party pants in every traditional event and can be circular, panelled or A-line. They are generally worn with long kurtis and a dupatta. In recent iterations of the classic, sharara pants can also be worn with long anarkalis or short kurtas with dupattas. 
2. What is a Gharara?
A gharara is quite similar to sharara but the two have their differences. First of all, the gharara is fitted from the waist to the knees. At the knees, there is a thick band where the fabric is ruched or gathered to create a flare till the toes. The thick band is made with gota lace to hide the joint as well as to add embellishment. A gharara, traditionally requiring 12 meters of fabric, is well structured and finds its grounds in fancy tailoring, hence separating it from clown pants. It is also worn at traditional events paired with a short Kurti and dupatta. 
3. Where Did Sharara and Gharara Originate From?
Now that you know what the difference between sharara and gharara is, it might be interesting to see where they originated from. Both sharara and gharara find their roots in the clothing of the Mughal Era where they were worn by women for their weddings or special occasions. These regal outfits were first introduced in the Awadhi region, now known as Lucknow. They were popularized in the 1970s and 80s by Bollywood actresses like Sadhana and Meena Kumari and in the early 2000s by Kareena Kapoor Khan. The trend of sharara and gharara suits came back when in the 2010s Bollywood actresses like Katrina Kaif and Deepika Padukone wore them in popular movies and songs. 
4. Variations in Design
Since their origination, sharara and gharara pants have seen multiple variations, They have been transformed into farshi pants and farara as well as the much loved, modern-day palazzo pants. 
These styles of festive pants are loved globally. They are comfortable and breezy, ideal for the excited brides of all parts of Asia, not just the Middle East. The effortlessly festive look of these pants makes them a much-loved option for wedding guests as well.
Despite the difference between sharara and gharara, both garments are worn on similar occasions. They are often reserved for weddings or special occasions. More often than not, they are a part of a bride's wedding trousseau. 
Styl Tip:
Shararas and ghararas are meant to be flaunted in all their glory. So don't shy away from the embellishments and the glitter for them. Try experimenting with different fabrics as well to achieve different effects. 
 We hope that this article helped you understand the difference between sharara and gharara. For any assistance in wedding styling or personal styling consultations, contact us at Styl-Inc and our team of expert stylists will get in touch with you .